---
Welcome to Golden Fi

elds Elementary!
Home of the Gladiators
Golden Fields welcomes you to a safe environment of learning for students in preschool through sixth grades. With some of the best teachers anywhere, the students are in good care. The focus is on best practices for tier 1 instruction.  That includes constant feedback, promoting learning with deep questions, and interventions for students on all levels. Students will learn how to build appropriate relationships from character education and safety training, take ownership of their learning, and feel the value of accomplishing hard things.
Questions for the Office?
Our amazing head secretary doesn't work all summer long in the building, but is available to respond to questions you may have if you'll send her an email -  lorianne.wilson@jordandistrict.org.
Voice messages left in the general mailbox will be checked on the last week of July when Lori is back in the office.
6th Grade Graduation Videos 
Here is a link to a graduation speech from two students and positive messages of encouragement from our staff to the graduating 6th graders.
Here is a link to a video message to our graduating 6th graders from the principal.
5th Grade American Heroes 
Order things straight from the online store
Pay online
It'll be shipped to your home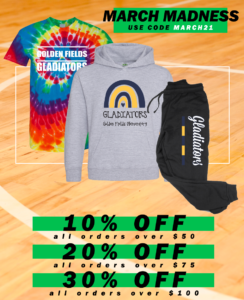 Register your student for kindergarten
View virtual orientation videos from kindergarten teachers, school staff and the PTA
Submit your preference for AM or PM sessions
Click this link to go the Enrollment & Registration page and register your new student online.
Pre-Registration Link for Online School Next Year (21-22)
You recently received information from the District regarding the online school being offered for next year. While we would certainly like to have all of our students be here with us at Golden Fields next year, we understand that family needs and circumstances vary and the online option may best meet those needs for next year. If you have made up your mind that you'd like to do the online school option for next year, we simply wanted to emphasize the value in having you complete the pre-registration form link below as soon as possible. Doing that will help us know how many in-person students to plan for in each grade which will also help us know how many teachers we need in each grade level for next year.
https://docs.google.com/forms/d/e/1FAIpQLSdgLz9vapIx9VxgN69byuYOe3LU90-5bIPodtAPMe7YlEU4Qg/viewform
More information regarding the online school "Rocky Peak Virtual Elementary" can be found by: visiting connect.jordandistrict.org or by reaching out to the principal of that school for next year by phone or email; Ross Menlove ross.menlove@jordandistrict.org 801-567-8131
Meal Service
Breakfast will be served 8:30-8:50 a.m. M-F (enter from cafeteria doors near bike rack)
School Breakfast and Lunch will continue to be offered at no cost to all students interested for the 2021-22 school year due to a grant received by JSD.
Safety Reminders
We have had several close calls and we would like to enlist the help of all to follow safety procedures to help keep our children safe.
Please review the map and safety information associated with our drop off and pick up procedures. Take note of the areas you like to use and brush up on the guidelines for those areas.
Area #51 and Area #1 have some bolded sections for review (both areas are near our two playground areas).