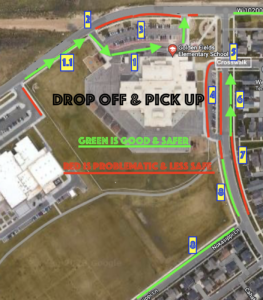 Please find the Area # associated with the location you would like to drop off and/or pick up your students - then find the correlating safety suggestions for each area below.
Area #1: Student Drop Off/Pick Up 
This is for ALL GRADE LEVELS

There is no parking in either the inner or outer lanes of the student drop off/pick up area.  Please

DO NOT

park or exit your vehicle, other than to assist child(ren) in/out of the vehicle.

Students are

NOT

to exit vehicles in the outer lane of traffic.  This is a major safety concern, as they may not be able to cross the street using the crosswalk, and may have to cross in front of other vehicles.  

Pull as far forward as possible, so that we can maximize our space and keep traffic flowing as best as possible.

Travel at a slow speed as school children, parents, and staff members are outside during drop off/pick up times.

Have your child(ren) prepared to exit your vehicle before you enter the area (backpack/lunchbox/materials in lap).  Students are to exit your vehicle

ONLY

once you have come to a complete stop within the inner lane.  

When moving from inner lane to outer lane, always look!  Please ensure that no other vehicles are approaching from the outer lane and watch for people using the crosswalk.  Proceed with caution and without distraction.

Please follow the direction of the teacher/staff members outside, and be courteous!
Area #1.1 Overflow Pickup Along Fenceline (10200 South)
Please do not park along the fence line between the playground and the middle school while waiting for student pickup, as it is problematic for those parents who are waiting in line, pulling forward to pickup students from the pickup lane (Area #1).
The road is not wide enough to expect anyone to go around you (just pull forward to traffic comes to a stop)
Area #2: Bingham Rim Road (10200 South)
Alternate cars entering the area (one from the east, then one from the west), to keep traffic moving as smoothly as possible and in an equitable manner.

Travel at slow speeds as school children, parents, and staff are outside during drop off/pick up times.
Area #3: North Parking lot 
The parking lot is not to be used as an alternative for student drop off/pick up. 

We do not allow students to cross the crosswalk without an adult standing on the other side of the crosswalk, parked and waiting to pick them up.

If you pull into the parking lot, you will need to park your vehicle and walk your child(ren) across the crosswalk to the building.

Please use caution when leaving the parking lot area.

Enter from the west entrance and exit from the east exit (one way traffic)
Area #4: Bus Lane & East Parking lot 
These areas are designated for school buses and daycare vans only.

Please

DO NOT

park in the bus lane, as this creates a problem for our buses and drivers. They cannot enter or leave the parking lot if other vehicles are parked in the lane.

Only use the painted crosswalk area to get from parking lot to building.

Please use caution when leaving the parking lot area and travel slowly to keep everyone safe.

Heed entrance and exit signs for this area, as this is a one-way traffic lane.
Area #5: Crosswalk with Crossing Guards (Split Rock & Bear Trap)
Crossing guards man the crosswalk before and after school to help students and families safely cross the road.

If a crossing guard is in the crosswalk area (should generally be in a reflective safety vest, with a stop sign), please stop and allow people to cross.  Once everyone is out of the crosswalk completely, proceed forward slowly.

Please use extreme caution when driving past this area and travel slowly to keep everyone safe.

Students should only cross Split Rock Drive with the crossing guards at Bear Trap.
Area # 6: Split Rock Drive (Immediately East of Parking Lot) 
The east side of Split Rock Drive may be used as overflow parking, or for parents who have arranged with their child(ren) an alternative drop off/pick up spot.  

Students should enter/exit vehicle on sidewalk side and use the crosswalk.

If you utilize this area, please have students use the crosswalks on Split Rock Drive & Bear Trap to cross the road and get safely to the building or vice versa after school to your vehicle.
Area #7: Split Rock Drive (corner of bus exit and south towards Nokasippi)
Only drop-off/pick-up on school side of road (Not on East side) - the road isn't wide enough for 4 lanes of traffic.
Please no u-turns as this causes unpredictable actions that can block traffic and lead to unsafe situations.
Please do not drop-off/pick-up facing the wrong way that opposes traffic.
Adhere to all signage to allow ample space for buses to exit (not parking in no-parking zones).
Always have students exit/enter vehicles on the sidewalk side
If dropping off on East side, the safest and preferred method is to pull forward towards crosswalk, have students walk north on sidewalk to cross with the crossing guard.
Do not allow students to cross the road when dropping off or picking up (use crosswalk in front of school) - see Area #6.
Area # 8: The school side of the roads adjacent to the grass field (retention pond)
Always have students exit/enter vehicles on the sidewalk side
This is an ideal spot for drop off & pick up as it doesn't require students to cross the street without a crossing guard. 
Other Considerations:
DO NOT

allow students to cross anywhere outside of the crosswalks!

Please be courteous and considerate of the local residents.  Do not block driveways or mail boxes.

The South Jordan Police Department will occasionally patrol the area to ensure compliance to traffic laws and school safety guidelines.
Students can become a Safety Super Hero by following the safety tips in this video!