What is Social & Emotional Learning? (SEL)
Students receive weekly lessons throughout the school year that are reinforced in the classroom on topics such as: Goal Setting & Growth Mindset, Emotion Management, Empathy & Kindness, Problem Solving, and Bullying Prevention.
We will be administering a short, 15-minute SEL survey three times a year to students in grades 3-6 that provides them an opportunity to self-reflect on their experiences at Golden Fields. The questions measure their ability to self regulate their emotions, connect with others at school, and feel confident about academic mastery. Student responses provide valuable feedback to school leaders regarding their experiences and how we can improve and adapt to better their needs. Participation is completely optional.  More details about the survey can be found on the following links: Information letter about the survey, links to the questions students will be asked (3rd-5th/6th), and an opt out form if you wish to not have your student participate.
What is Walk to Read (WTR)?
WTR is the name for a district-wide reading intervention program. For 30 minutes a day (M-Th), all students in each grade level are provided targeted reading phonics instruction customized for their needed skills. Students receive instruction on needed phonics skills or enrichment instruction in 3-week cycles. Teachers analyze data at the end of each cycle to determine student needs and group placement.
What is Acadience? The Acadience letter you receive at the beginning, middle and end of the year provides you with information regarding your student's proficiency in reading as measured by the Acadience screener (an indication of their trajectory for current/future success in reading).
How are skill deficits identified? A diagnostic tool is administered on a regular basis to students to determine which of the 15 targeted phonics skills they haven't yet demonstrated proficiency. The natural progression of the "on-level" target moves between the following groupings: skills #1-5 in 1st grade, skills #6-9 in 2nd grade, and skills #10-15 in 3rd grade. Students in 4th-6th grades whose assessment data indicates they would benefit from the phonetic skills lessons will also receive small group instruction with their peers to help fill any skill gaps in understanding.
How are skill deficits addressed? During the same window of time, students who are reading at/above level receive additional instruction grade level standards.
How can parents know what skill their child is working on? 1st-6th students in skill groups #1-15 will be provided with regular updates (about every three weeks) from the school regarding their current skill level in the program. A notification will be sent home with the skill # that directs them to a skills/strategies section on the our website which provides ways parents can help with those particular skills at home.  Kindergarten parents may refer to a suggestion document that is broken down by quarters. Kindergarten students work on earlier phonemic awareness skills that help get the students ready for the phonics lessons. To find out how you can better support your reader at home, visit:
What are the latest COVID-19 guidelines from the Health Department?
School Lunch & Breakfast 
Breakfast will be served 8:30-8:50 a.m. M-F (enter from cafeteria doors near bike rack)
School Breakfast and Lunch will now be offered at the rate of $1.75 for lunch and $.80 for breakfast. The reduced rate is $.40 and $.30 for those who qualify for Free/Reduced meals by completing an application on Skyward.
Add money to your student's lunch account anytime online on Skyward.
Supply Lists & Classroom Information 
In the Faculty/Staff portion of this site, each teacher has a email link and a cloud link below their name. The cloud link will take you to their info page that has helpful information about their class (i.e. about me, disclosure info, supply lists, etc.)
Can I get a tour of the school?
Take a Self-Guided Virtual Tour of the School

Where Do Students Go on the First Day of School
Students will line up at the back of the school in their grade level area (see below). Students will exit out the same doors at the end of the school day.
Grade level signs will be posted on the exterior doors
Cones with teacher names will be set up in grade level areas for students to line up behind.
Staff members will be outside to help students know where to go.
Parents - click here to learn about drop-off & pick-up procedures. Thank you for following safety protocols and for respecting the signs.

A recording of the principal reading "First Day Critter Jitters" just in case one of your students is experiencing some first day of school jitters!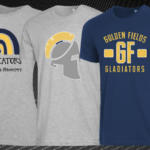 "About My Classroom" links
In the Faculty/Staff portion of this site, each teacher has a email link and a cloud link below their name. The cloud link will take you to their info page that has helpful information about their class (i.e. about me, disclosure info, supply lists, etc.)
Visiting / Volunteering at the School
If you are checking out a student, always bring valid ID.
Due to space concerns in the cafeteria we are asking parents not to eat lunch with their student here at school on birthdays or special occasions, though you are certainly always welcome to check them out for lunch on those days.
As an additional safety precaution, we are asking all volunteers to complete the process associated with becoming an approved volunteer at Golden Fields (watch a 28 minute video, complete the annual volunteer form, and complete the one-time background check). Approved volunteers will be entered into our digital check-in system database that will print a custom volunteer name tag. Always bring valid ID show front office for verification.
Anyone visiting the interior of the school must have a clear purpose AND have completed the process to become an approved volunteer/visitor.
For grade level programs occurring during the school day, a check-in process will be followed that maintains constant supervision of visitors by staff in a designated area of the school (i.e. the gym).