Where Do Students Go on the First Day of School
Students will line up at the back of the school in their grade level areas.
Grade level signs will be posted on the exterior doors
Cones with teacher names will be set up in grade level areas for students to line up behind.
Staff members will be outside to help students know where to go.
Parents - click here to learn about drop-off & pick-up procedures. Thank you for following safety protocols and for respecting the signs.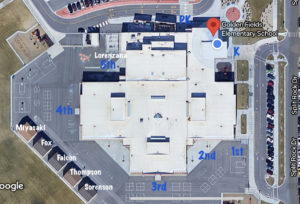 School Lunch & Breakfast 
Breakfast will be served 8:30-8:50 a.m. M-F (enter from cafeteria doors near bike rack)
School Breakfast and Lunch will now be offered at the rate of $1.75 for lunch and $.80 for breakfast. The reduced rate is $.40 and $.30 for those who qualify for Free/Reduced meals by completing an application on Skyward.
Add money to your student's lunch account anytime online on Skyward.
Supply Lists & Classroom Information 
The "cloud" link within the Faculty/Staff section of our website will take you to an "about my class" document that will have helpful information regarding supply lists, disclosure documents, etc.